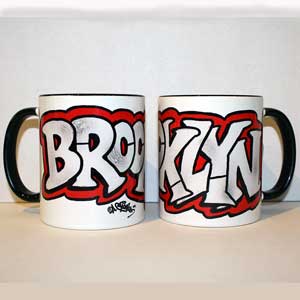 Brooklyn Graffiti Souvenir mug famous Art
Save

0

%
Save %
Original price
$14.99
-
Original price
$14.99


12 ounce


 original art by A Charles.


--
Brooklyn Graffiti Souvenir mug famous Art.
Brooklyn Graffiti Souvenir mug by the famous artist A Charles.   One of NYC's many pleasures is turning a corner to find a street art graffiti mural taking up an entire wall. Take home  this mug and enjoy one of New York City's  famous graffiti art.
Andre Pierre Charles (born 1968) is an American artist born in Brooklyn, New York and raised in the Bronx.Charles is best known as a 1980s pioneer of the New York City graffiti art movement and for his influence on New York City nightclub and youth culture.
Graffiti in New York City has had a local, countrywide, and international influence. Originating in theNew York City Subway and spreading beyond it, it is regarded by the city's authorities as an act ofvandalism, while some view it as an art form.

Brooklyn Graffiti Souvenir mug
15 ounce.